This Spanish style salad makes a great change from Cole Slaw having a light dressing, lovely crunch and an excellent combination of flavours.
We ate it with Chicken with Garlic and Saffron (Pollo al Ajillo) and Potatoes with Spicy Tomato Sauce (Patatas Bravas) – about 400 kcals in all for me.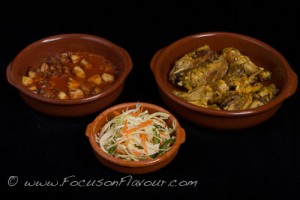 I have reduced the amount of olive oil and raisins used in order to make this a light, low-calorie salad that is suitable to use on a 5:2 Fast Day, or on any day as part of a healthy, balanced diet.
Caraway Seeds contain a variety of vitamins, minerals, essential oils and anti-oxidants with many potential health benefits. They go particularly well with cabbage, as their anti-flatulent properties are particularly helpful.
Cabbage, Green Pepper and Caraway Salad
2013-03-18 12:40:27
Serves 2
Spanish influenced crunchy and tasty alternative to cole slaw. The addition of caraway seeds helps to temper the sometimes flatulent effect of cabbage!
Ingredients
100g white cabbage, finely shredded
1 medium carrot, cut in fine julienne strips
1/2 green pepper, cut in fine julienne strips
10g raisins
For the dressing
1/2 tblsp extra virgin olive oil
1/2 tblsp white wine vinegar
1/2 tsp dijon mustard
sea salt
freshly ground black pepper
For the garnish
1/2 tsp caraway seeds
Instructions
Put the shredded vegetables in a serving dish.
Whisk the dressing ingredients together and season to taste with salt and pepper.
Pour the dressing over the salad and toss well.
Sprinkle the caraway seeds over the top.
Notes
I like to use vinegar aromatised with walnuts, vinaigre noix - a fab ingredient that is common here in South West France, it lends a wonderful nutty flavour to salad dressings. Look out for it!
As a side dish, this would serve 4 (42 kcals each), or as a more subsantial salad, serves 2 (84 kcals each).
My calculations using myFitnessPal are a little different from the beta version below, I don't really know why.
Adapted from Tapas, the little dishes of Spain by Penelope Casas
Adapted from Tapas, the little dishes of Spain by Penelope Casas
Focus on Flavour https://www.focusonflavour.com/