It's getting to the time of year when most of my gardening time is spent watering and harvesting. The first wave of beans and the raspberries are now coming to an end, but tomatoes, cucumbers, courgettes, summer squash, Swiss chard and perpetual spinach are growing abundantly, and the first chillies are ripening.
For these vegetables I've been trying out some new ideas, most of which I have captured on my Pinterest board – Seasonal Specials.
I also have some fabulous Basil plants. This year I have Purple, Sweet Green Genovese and Thai varieties.
So, what to do when you have a fabulous amount of basil? I make Basil Oil – it is wonderful drizzled over fish, chicken, anything with tomatoes, roasted vegetables, cheese…. This and the other following recipes are from my first book Focus on Flavour.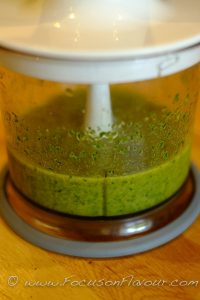 Basil Oil
I came across this in a book by Annabel Langbein and it was an instant hit with me, because I adore basil and mourn the end of the growing season. This is the perfect way to preserve the intensity of its flavour and colour. It gives a terrific visual lift to the Tomato and Feta Tartlets as well as giving its heady herbal warmth to chicken, fish, potatoes or other vegetables.
1 cup tightly packed basil leaves
Boiling water
½ cup olive oil
½ tsp sea salt
Pour the boiling water over the basil leaves and immediately refresh under cold water. Drain well and blot dry with paper towel. Blend with salt and olive oil until smooth. Store in the fridge or freeze in ice cube trays.
Approx 120 calories per tbsp
Tomato and Feta Tartlets with Basil Oil
These little tarts are really yummy. A wonderful mixture of tastes and textures. You could use mozzarella instead of feta.
Serves 6
Ready rolled Puff Pastry (373 kcal)
3 – 4 large ripe tomatoes (100 kcal)
½ pack (75 grams) feta cheese, sliced (200 kcal)
Sea salt and black pepper
3 tbsp Basil Oil (360 kcal)
Preheat oven to 200ºC. Cut out circles about 10cm diameter from the pastry. Lay onto a baking tray and prick the bottom with a fork. Chill for 20 minutes.
Slice the tomatoes and layer on the pastry, alternating with the cheese. Drizzle with basil oil and season well with salt and freshly ground black pepper.
Bake for about 10 minutes until golden brown.
Serve with a drizzle of basil oil on the plate.
Approx 175 kcals per serving
I also love to make my own Pesto, but instead of using Pine Nuts, I use Walnuts
Walnut Pesto
Until I discovered Basil Oil this was the only way in which I could capture the wonderful aroma of basil to use beyond the season when it grows fresh. We have plenty of walnuts here, so I used them instead of pine nuts and I think they give the pesto a really fantastic flavour. It also tastes delicious without the cheese for vegans or those avoiding dairy products.
I use this with pasta for a simple starter or lunch dish, mix it in to a vegetable soup just before serving, or spread over meat or fish (see Chicken Pesto Parcels).
1 cup basil leaves
2 cloves garlic
½ cup shelled walnuts
½ cup olive oil
Sea salt
25g finely grated Parmesan or other hard cheese (optional)
90 calories per tbsp
Fat 9.5g, Carbs 0.6g Protein 1.6g
Put the basil, garlic, walnuts and salt into a blender with about half the olive oil to mix to a paste. Stir in the cheese, if using. Transfer to a screw-top jar and pour in extra olive oil to cover completely. Screw on the lid and store in the fridge. Mix well before using and recover any remaining paste with olive oil again. Keeps well.
Chicken Pesto Parcels
A super simple way of dressing up a piece of chicken, full of flavour and great for a 5:2 fast day
Cooking the chicken wrapped in paper helps to keep all the flavour and juiciness in. This is a great way to cook if you need to cater for different preferences – meat, fish and vegetarian parcels can all be cooked at the same time without transferring their flavours.
Serves 4
4 escalopes of chicken (or turkey) (164 kcals per 100g)
2 tbsp Walnut Pesto (180 kcal)
4 slices Bayonne ham (183 kcal)
Preheat the oven to 200ºC.
Spread the pesto on the chicken. Lay the ham on top. Roll up each one and place into the centre of a sheet of baking paper, then fold up and seal into parcel. Bake for 30 minutes at 200ºC.
Lovely served with braised endive in a cheesy sauce.
Approx 250 calories per serving (based on 100g chicken)