If you like the Spanish flavours of Saffron and Garlic, I'm sure you will enjoy this way of cooking fish.
This recipe is based on one in Tapas, the little dishes of Spain, by Penelope Casas, where she used Swordfish or Shark – but these are off the list of acceptable fish to use these days. I used Haddock, but it would be equally good with Cod or Halibut or a firm meaty fish like Tuna (as long as it was caught by pole and line). If you want more information about which fish are ok to eat and which aren't, please download Fish to Eat and Fish to Avoid or get the Fish Fight App.
The lovely golden colour of the finished dish is not entirely due to saffron – I used some frozen tomato flesh, of a home-grown variety called Amish Gold.
I served the Fish in Saffron Sauce with Cauliflower Rice and Broad Beans. A very satisfying and delicious main course under 300 kcals.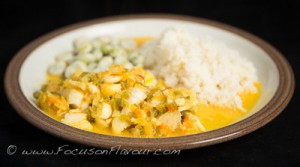 Haddock in Saffron Sauce
2013-03-21 16:59:36
Serves 2
saffron and garlic lend a typical Spanish flavour to this easy way of preparing fish.
Ingredients
240g haddock fillet, cut into cubes
2 tsp extra virgin olive oil
1/2 small onion, finely chopped
1 clove garlic, finely chopped or pressed through a crusher
1/2 green pepper, finely chopped
250ml chicken stock
100g tomato, skinned and chopped
pinch of saffron strands
freshly grated nutmeg
sea salt and freshly ground black pepper
Instructions
Heat the oil in a frying pan or cazuela (earthenware dish).
Sauté the onions, garlic and green pepper until softened.
Add the tomato and cook for a couple of minutes.
Stir in the stock, saffron and seasoning.
Add the fish pieces, cover and cook for 5 to 10 minutes until the fish is cooked through.
Notes
To make the cauliflower 'rice', cut cauliflower into florets and cook in boiling water for about 5 minutes, so still firm. Drain and mash. This is the really low fat way to do it, other methods include whizzing up the raw florets in a food processor, then frying with some onion. Alternatively, you can make cauliflower mash by cooking a little longer, then mashing with butter and a little milk, cream, soya milk or fromage blanc.
Adapted from Tapas, the little dishes of Spain, by Penelope Casas
Adapted from Tapas, the little dishes of Spain, by Penelope Casas
Focus on Flavour https://www.focusonflavour.com/