I love Christmas leftovers and my idea of heaven is having a house full of home-made and fresh foods, which will form the basis of delicious meals up to New Year. With just the two of us this year, I am planning ahead and making sure that I have all the things I need to make some of our favourite dishes and make the most of the turkey, ham, pudding, cheese, cream and so on. So my shopping list includes
mushrooms
celery
leeks
pomegranate
red cabbage
pumpkin or butternut squash
filo pastry
limes
Greek yogurt
long-lasting leafy greens such as baby spinach/rocket or endive
I also find this is a great time of year to use preserves and pickles and things stashed away in the freezer and cupboards.
Here are some recipes which I look forward to.
Cinnamon and Citrus Pineapple – Have you got a pineapple that you didn't get round to eating? This is a fab way of enjoying it. I usually serve it with thick Greek yogurt.
Squash, Stilton and Quince Tart – a super way to use blue cheese. If you are lucky enough to have your own Quinces, making Membrillo / Pate de Coing is a fab way of preserving them. I love to use it with a sharp cheese like Queso Manchego as an appetiser, and also add to apple pastries for dessert, but less often think of it as part of a main dish. They have pate de coing on the cheese counter at our local supermarket. This is a fab and substantial lunch or supper dish, which is super with a bright green and red salad (spinach or rocket with pomegranate).

Celery and Stilton Soup – I am so looking forward to this! Yes, I love to have stilton with a digestive biscuit and a glass of port, but this is worth buying a bigger piece of cheese for! Other blue cheese can be used. Part-baked baguettes make fab crunchy garlic breadsticks.

Roast Pumpkin and Glazed Walnut Salad – crack some of those walnuts, or maybe you have pecans, almonds or hazelnuts to use. It doesn't need much in the way of leaves, but it is good to have some contrasting colour and texture, so I might use endive or radicchio.
Clementine Cake – it is lovely to have a huge bowl of beautiful orange fruits to decorate the table, but you don't want to let them get past their best, so whether they are Satsumas, Tangerines, Mandarins or Clementines, this dairy and wheat-free cake is a joy.
Don't forget the fabulous stock that you can make from boiling a gammon or the turkey carcass. Soups made with such stocks don't need to be complicated, they will be full of flavour. I am looking forward to a zingy Thai-style Hot and Sour Soup. I keep lemon grass and lime leaves in the freezer and a jar of red Thai curry paste lasts for ages in the fridge.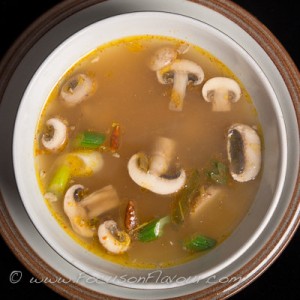 As for the turkey, ours comes from Sarah Meakin at Domain du Merchien and it is the star of our Christmas table. With all the accompaniments we don't actually eat a lot of it on Christmas Day, but just love a platter of cold meats with preserves and salads. Then there is our favourite Club Sandwich, as well as Turkey, Ham and Leek Flan; Turkey and Mushroom Pie; Turkey Curry; Turkey Risotto and Golden Tangle Pie.
So, what leftovers will you be looking for ideas for? Or what are your favourite ways of using them?
A little bit of thinking ahead and you won't have to rush to the shops to get anything extra. This year, more than ever, I have got accustomed to shopping only once a week, and I think I can happily manage a couple of weeks, as long as I have some fresh salad leaves from the kitchen windowsill – time to start sprouting! Have a wonderful festive season.