Over on the 5:2 Intermittent Fasting Recipes from Around the World group on Facebook, there is a Spanish theme going on. So this week I thought I would share one of my Spanish-inspired recipes.
Key flavour ingredients are the lovely smoked paprika and a little robust flavoured chorizo. You can use other beans instead, but I am particularly fond of these, so big and soft and buttery. I buy them ready to use in glass jars. If using dried beans, you will need to soak them overnight, then drain and put in a pan, cover with fresh water, add some herbs like bay leaves and thyme. Bring to the boil, cover and simmer for about 45 minutes, or until tender.
Chicken, Chorizo and Butter Bean
The addition of the beans and chorizo makes this a substantial dish with robust Spanish flavourings.
Serves 2
300g chicken breast fillet 330 kcals
1/2 tsp smoked paprika 4 kcals
30g chorizo 105 kcals
2 cloves garlic, finely chopped 9 kcals
150g courgettes, sliced 30 kcals
200g tomatoes, peeled and chopped 76 kcals
120g cooked butter beans 97 kcals
2 tsp olive oil 84 kcals
To garnish
Some chopped coriander or flat parsley leaves
Trim the chicken breast and sprinkle all over with the smoked paprika.
Peel the skin off the chorizo and cut into slices.
Heat the oil in a heavy pan and add the chicken and chorizo, turning and frying until the chicken is sealed on all sides and the chorizo is starting to release oil.
Add the garlic and courgettes and cook for a few more minutes.
Add the tomatoes, parsley and butter beans and add a couple of tablespoonfuls of water.
Bring to the boil, then cover and simmer over low heat for about 30 minutes, until the chicken is tender.
Garnish with chopped coriander or parsley.
This looks good served in a cazuela, a flat earthenware dish used extensively in Spain.
Per serving: kcals 368
Carbs 19g Fat 11g Protein 45g
This is on Page 122 of 5:2 Healthy Eating for Life
Serve with Cauliflower and Caper Salad (page 42) 73 kcals

and Cabbage, Green Pepper and Raisin Salad (click on the link or look on page 50) 70 kcals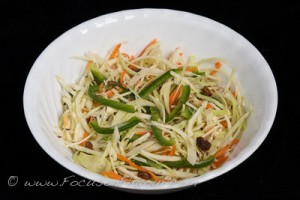 which works out to just slightly over 500 (adjust portions slightly for 500/600), or simply with Cauliflower Rice (page 84) at only 25 kcals for 100 grams.