A combination of ingredients that work surprisingly well together, to make a very low calorie, tasty and filling soup, less than 50 kcals a serving.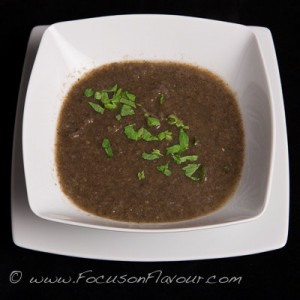 My husband didn't have any idea what was in it and said he thought it was "very satisfying and kind of meaty". Perfect for a 5:2 Fast Day.
Mushroom and Celery Soup
2013-04-09 16:44:32
Serves 4
A substantial and yet light soup that combines interesting flavours and textures.
Ingredients
250g mushrooms, chopped
4 stalks of celery, chopped
3 cloves garlic, finely chopped
1 litre stock, vegetable or chicken
1 tsp Worcestershire sauce
1 tsp grated nutmeg
sea salt and freshly ground black pepper
celery leaves
Instructions
Put the mushrooms, garlic and celery in a saucepan with about 100ml of stock.
Cover and cook over a low heat until the celery is soft, about 30 - 40 minutes.
Add half of the remaining stock and whizz with a blender.
Pour in the rest of the stock together with the Worcestershire sauce and nutmeg.
Bring to the boil, then check the seasoning.
Serve garnished with celery leaves.
Notes
As an alternative to Worcestershire sauce, you could use soya sauce. Next time I make it, I think I will try a few drops of good quality balsamic vinegar instead, which should enhance the mushroominess.
Adapted from The Ultimate Healthy Eating Cookbook , consultant editor Anne Sheasby
Adapted from The Ultimate Healthy Eating Cookbook , consultant editor Anne Sheasby
Focus on Flavour https://www.focusonflavour.com/