This is a very flavourful vegetarian main which is low enough in calories to have on a 5:2 Fast Day or as part of a calorie-counted healthy eating plan :-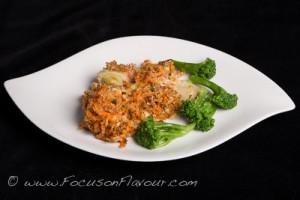 Or serve as a side dish with chipolata sausages :-
The calculations for calories came out differently on MyFitnessPal than on my recipe card, below. Either way, no more than 265 kcals for the portions of gratin shown here.
The caraway seeds add a really interesting flavour.
Leek and Crunchy Carrot Gratin
2013-04-09 14:38:04
Serves 5
A yummy leek based vegetarian main dish, or a good accompaniment to sausages (baked in the oven at the same time). With the vegetables, milk, cheese, breadcrumbs and nuts, this has a good balance of ingredients.
Ingredients
500g leeks, cut into chunks
150ml vegetable stock or water
1 tsp caraway seeds
sea salt and freshly ground black pepper to taste
250ml semi-skimmed milk
10g unsalted butter
1 tblsp plain flour
For the topping
60g fresh wholewheat breadcrumbs
2 medium carrots, grated
75g grated hard cheese
15g chopped walnuts
Instructions
Preheat the oven to 180c.
Put the leeks in a saucepan with the water and seeds.
Bring to the boil, cover and then simmer for 7 to 10 minutes, until the leeks are softened.
Remove the leeks with a slotted spoon to a baking dish.
Pour the remaining liquid into a jug and make up to 300ml with milk.
Melt the butter in a saucepan and add the flour to make a roux.
Gradually add the liquid, beating well after each addition, to make a smooth sauce.
Simmer the sauce for a couple of minutes, stirring.
Check the seasoning.
Pour over the leeks.
Mix all the topping ingredients together and sprinkle over the top.
Bake in the oven for 20 - 25 minutes, until golden.
Notes
I used oddments of cheese that I had left - a little cheddar, some comté and some crumbled blue sheep's cheese, which gave an interesting mix of flavours.
Adapted from The Ultimate Healthy Eating Cookbook (1999), consultant editor Anne Sheasby
Adapted from The Ultimate Healthy Eating Cookbook (1999), consultant editor Anne Sheasby
Focus on Flavour https://www.focusonflavour.com/