A lot of people know that I love to grow tomatoes. A lot of tomatoes. Lots of different varieties. This year I think I have about 60 plants of 20 or so different sorts. Not only do I love to eat a simple tomato salad, I like to have enough tomatoes so that I can avoid buying canned tomatoes or pizza or pasta sauce altogether. I also generally find that those you buy from the supermarket are pretty tasteless, especially out of season, so I prefer to use my own frozen or sundried tomatoes instead throughout the winter and spring.
With the smaller tomatoes, I generally sundry them and then store them in olive oil. I find they only need 2 or 3 days in the sunshine. Cut them in half, lay them cut side up on a tray, sprinkle with sea salt. I usually put a wire rack over the top which keeps flies off successfully. Leave them in a sunny spot, but bring them in overnight or if there is any hint of rain.
If it looks like they aren't going to get fully dry because of poor weather, they risk going mouldy, so then I finish them off in the oven – at about 80c until they are the texture I like, which is still kind of soft, but crinkled, what the French would call mi-cuit. If you don't have sunny weather at all, you can do the whole thing in the oven, or you could use a dehydrator. But I think the sunshine gives the most flavourful results and the best texture.
Once they are dried to your liking, you can store them in a jar of olive oil. I push in as many as I can fit in the jar and then pour in good quality virgin olive oil to completely cover them. Use a chopstick or spoon to ensure there are no air bubbles. I can get at least a whole tray full in one jar, so it is a good space-saving method of storing them. Keep them in a cool, dark place and I find they last at least a year and even two (on the occasions when I have made more than we get through).
Another way of storing them that I am trying this year, is putting them in a ziploc bag and freezing them. I think this could be an excellent way of saving them to make a paste with later, or just to add them in to all sort of savoury dishes.
So to finish with, here is one of my favourite ways of using sun dried tomatoes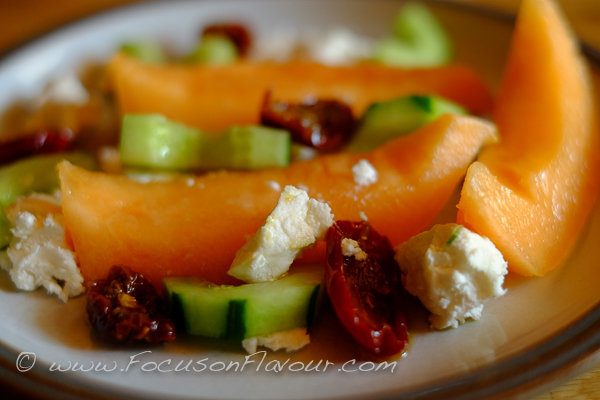 Quercy Melon, Cucumber, Goat's Cheese and Sundried Tomatoes
Per person
¼ of a Quercy (charentais) melon, peeled, deseeded and cut into 3 wedges (41 kcal)
40g of soft goat's cheese (77 kcal)
a chunk of cucumber, halved, peeled, deseeded and sliced into thick chunks (8 kcal)
6 small sundried tomatoes, or slices of 2 large ones (18 kcal)
Dress with a drizzle of vinaigrette made with olive oil, walnut vinegar, balsamic vinegar, grainy mustard, garlic, sea salt and pepper and scatter with some fresh basil or finely chopped mint. Add about 40 kcals for a tbsp of dressing (ratio of olive oil to vinegar 1:2).
Per serving: kcals184
Carbs 18g Fat 10g Protein 7g
This makes a fabulous starter, or a light lunch. I really like it best with the soft goats cheese, like a buche fraiche (fresh log) that I can buy in the market, or the Petit Billy type of chèvre frais; but you could also use cabecou, or perhaps some sheep's cheese like feta or buffalo mozzarella.
This recipe first appeared in my book Focus on Flavour: Recipes inspired by living in South West France.
Bon Appetit!