This week I went to the market in Montaigu-de-Quercy. Lots of lovely fresh seasonal local produce to choose from!
I came home with my bags laden :-
lettuces, endive, bean shoots, swiss chard, leeks, brown mushrooms, young turnips, carrots, jerusalem artichokes, watercress, beetroot, radishes, goats cheese, pears, apples and satsumas – and the first asparagus (from Spain).
Each week I am trying to feature seasonal produce, but I'm also trying to use up food that I have stored in my freezer, much of which is home-grown.
So my actual plan for the week, updated with calorie counts, designed with flavour in mind for healthy, satisfying well-balanced meals, which will work for an intermittent fasting and weight loss lifestyle. I'm not showing cups of tea or my standard breakfast, but numbers are included in the daily totala:-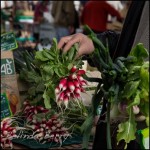 Sunday ~ 1300 kcals
lunch: leftovers – Pizza and Spanakopitta, Veg Stir Fry with Satay sauce (370); satsuma (30)
dinner: Herby Roast Chicken (Alain Ducasse) with Roasted Roots, Braised Turnips and Peas (410);
Raspberry Cinnamon Meringue (75)
+ 200 kcal of treats (wine and chocolate)!
Monday ~ Fast Day 490 kcals
breakfast: Scrambled Egg with Smoked Trout – (140)
dinner: Watercress Soup (60); Tuna Steak with ginger and garlic, steamed Asparagus, Beanshoot, Mushroom and Radish Salad (200)
Baked Pear with Amaretti (100)
Tuesday ~ 1185 kcals
lunch: Watercress Soup (60) with cracker (30); 2 Chipolata Sausages with Cauliflower Mash and leftover braised vegetables (360); Satsuma (30)

supper: Asparagus Filo Pastries (150); Coronation Chicken Salad (260); Roquefort and digestive biscuit (150); Raspberry Cinnamon Meringue (75)
Wednesday ~ 1275 kcals
Thursday ~ Fast Day – 500 kcal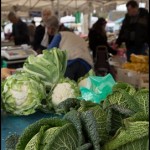 Friday: tbd!
I've updated last week's meal plan with what we actually ate and the calorie counts. You'll find my recipes here
I hope you find some of my ideas inspirational and useful.
As always, if you have any questions, please ask.