This recipes combines some of my favourite summer ingredients – tomatoes and basil, with filo pastry and feta cheese – to make a delightful starter when entertaining, or a yummy fast day meal.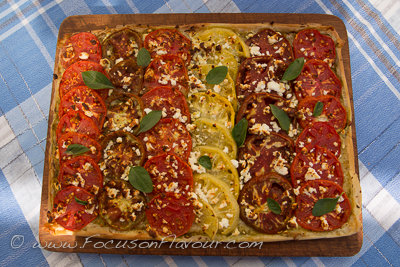 Recipe serves 4 as a main course (380 calories) or 8 as a starter (190 calories).
Tomato and Feta Filo Tart
2013-08-17 16:02:26
Serves 8
a celebration of luscious ripe tomatoes - serves 8 as a starter or 4 as a main course
Ingredients
6 sheets filo pastry
1.5 tbsp olive oil
2 tbsp pesto
100g feta cheese, crumbled
6 large tomatoes, sliced
salt and pepper
12 basil leaves
Instructions
Preheat oven to 210C
Line a large baking sheet with a piece of baking parchment (facilitates removal of the tart later!)
Lay as sheet of filo on the paper and brush lightly with oil.
Lay another sheet of pastry on top, then lift and turn over (this helps to use much less oil than brushing each sheet)
Repeat until all 6 sheets of pastry have been used.
Turn over the edges to make a neat outer rim.
Brush the pesto evenly over the top, then crumble over half of the feta cheese.
Arrange the tomato slices over the top
Season with salt and pepper and sprinkle over the remaining feta cheese.
Bake until the pastry is crisp and golden, about 30 minutes.
Cool in the pan then transfer to a board.
Scatter the basil over, then slice and serve warm or coo, with crisp salad leaves
Notes
8 servings of 193 calories each, or 4 servings of 386 calories.
Adapted from Eating Well
Focus on Flavour https://www.focusonflavour.com/