I have a lot of cookery books and browsing through them is one of my pleasures. Sitting with a pile of them beside my and thinking of a trip to Spain – I passed my book of Tapas, the little dishes of Spain, by Penelope Casas over to my husband, who marked a few selections for us to try (I have the original paperback version of the book, I bet the new one is lovely with more recipes and more photos). Small dishes of wonderful ingredients, prepared to delight the palate, sounds just right when you only have a few calories to play with. Let's see what I can do with them this week.
Seasonal food: I have glorious forced rhubarb about ready to pick. Other desserts will depend on what looks good in the market. I'm hoping to find more asparagus, despite the very chilly weather we have had the last few days. I'll be adding some soups in too, again depending on the seasonal choices on offer. Plus I have my own quince preserve to use.
I am feeling better I think from eating less refined flour so I'm going to try making my pizza dough with wholewheat flour this week.
This meal plan will work with our intermittent fasting lifestyle and support our weight loss targets, helping us to keep to around 1200/1800 calories on a normal day and 500/600 calories on a fast day.
Saturday:
wholewheat Pizza with chorizo, mozzarella and sundried tomatoes; rocket salad
Tapas: Manchego Cheese and Membrillo (quince paste), Serrano Ham, Chorizo, Olives, Anchovies,
Vegetable Stuffed Canelones (Crepes)
Baklava and Ice Cream
Sunday:
Chicken in Garlic sauce, Asparagus salad;
Rhubarb Meringue Pots (adaptation of BBC Good Food recipe)
Albondigas (meat balls); Patatas Bravas (spicy oven baked potatoes with tomato sauce) and Aioli (garlic mayonnaise), Cabbage, Green Pepper and Raisin salad
Monday ~ Fast Day
Egg with Tomato and Bacon (thinking of Huevos Rancheros now…)
Celeriac, Saffron and Orange Soup
Trout with Bayonne Ham and Garlic, Cumin-flavoured Carrot salad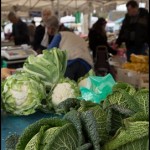 Tuesday
Smoked Fish on Avocado
Pork Ribs in Garlic sauce, Cauliflower Salad
Wholewheat Pasta with Meatballs and Tomato sauce
Wednesday
Quinoa with Asparagus and Walnuts;
sliced Oranges

Chickpeas and Spinach;
Tomato, Tuna and Egg salad
Thursday – fast day
Porridge with Berries

Fish in a Saffron sauce, seasonal Vegetables
Friday
Sausages with sweet and sour Figs, White Bean salad

French Onion Soup
then there's bound to be leftovers to use up…..
Recipes and calories counts will come later, when done!
Please see my other meal plans and recipes, also my list of what we have been eating on Fast Days.
I hope to inspire you to eat well and enjoy every day, fasting or otherwise!