Now updated with photos and calorie counts.
Continuing my tour of light and healthy Mediterranean cuisine this week, with influences from France, Morocco and Italy, but adding in a little inspiration from elsewhere to spice it up a bit.
I'll be aiming to use asparagus and rhubarb as key seasonal ingredients. At the market this morning, I also bagged a lovely bunch of watercress, some Swiss chard and a very healthy looking bunch of pale and interesting carrots.
Behind the carrots are some early globe artichokes – my favourite way of eating these is with loads of butter, so I'd better find a more healthy recipe before I add those to my meal plan!
A few less dishes on this plan – I am finding that we often have left-overs to use up, as I am still buying and cooking more than we are actually eating!
This is week 11 for us on our 5:2 diet. I am over 2/3 of the way to my target healthy weight now, having lost 8.7 kg (19lbs), which is absolutely brilliant. My husband meanwhile has lost nearly 15 kg and has revealed that there was a six pack there, all along… 🙂
So this week we'll do another 2 fast days and the rest of the time we're keeping light on the carbs, so as not to lose momentum – but there are plenty of delicious treats along the way, as I focus on flavour and make light but tasty versions of some of our favourite dishes to share with you.
Saturday: dinner for friends ~ 550 kcals
Cucumber, Broad Bean, Pea and Apple Salad with Sesame Filo Crisps
Red Mullet with Coconut Lime sauce, Puy Lentil salad and Watercress Salad
Rhubarb and Orange Compote with Cardamom Custard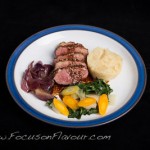 Sunday: local specialities and home grown rhubarb
Asparagus Filo Pastries with Grainy Mustard and Gruyere ~100 kcals
Sticky Marmalade Duck with Celeriac Mash, Red Onion Confit and Swiss Chard ~310 kcals
Fromage Blanc with Apple and Ginger ~ 120 kcals
Monday ~ Fast Day with an Indian kick
Scrambled Egg with Smoked Trout ~ 130 kcals
Watercress Soup ~60 kcals
Carrot and Cumin Salad ~40 kcals
Fish with a Mustard Masala, served with Kachumber Salad ~200 kcals
Plum Kulfi ~50 kcals
Tuesday: Italian day
Summer Minestrone Soup ~100 kcals
Turkey Saltimbocca alla Romana with a Muscat Jus, served with Celeriac and Swiss Chard Rosti ~230 kcals
Beetroot and Chocolate Cake (1/2 serving) ~112 kcals
Wednesday: Moorish influences
Chicory and Mushroom Salad

Cod with Tomato and Chorizo Sauce, served with Grean Beans and French Fries
Sliced Blood Oranges with Dates and Pistachio
Thursday ~ Fast Day Italian style
Vegetable Soup ~60 kcals
Stuffed Salmon Fillet with steamed vegetables ~225 kcals
Fruity Tiramisu ~120 kcals

Friday: a Moroccan menu with a Mexican twist
Baby Beetroot Salad with Spiced Walnuts and Goats Cheese ~235 kcals
Merguez Sausages with Cous-cous, Ginger Yogurt , Baked Butter Beans with Spinach and Carrot Salad ~225 kcals
Mojito Cheesecake ~175 kcals
As I go through the week, I'll be checking my recipes and calorie-counting them, putting some of them up here on my blog. I'm also working towards my 5:2 recipe book…..